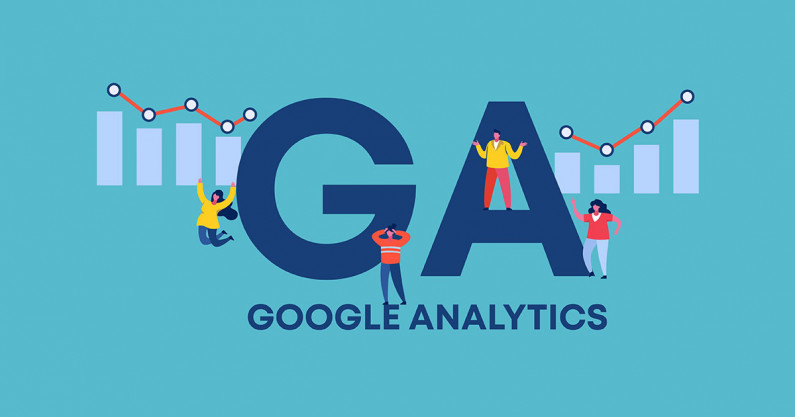 If you use Google Analytics to track activity on your website you should learn about the pending shutdown of Universal Analytics, and the introduction of it's successor Google Analytics 4. How will this impact your Google Analytics account? We'll cover some important dates and topics related to making the switchover.
What is Universal Analytics?
Universal Analytics (UA) is an older version of Google Analytics, first released in October 2012.
There are two really important dates to know about:
On July 1, 2023, Google will drop support for UA, so it's important to plan your move to another platform (such as Google Analytics version 4).
After July 1, 2023, you will be able to access your previously processed data in your Universal Analytics property for at least six months. After this date you will no longer be able to access this data. This might be extended but it makes sense to prepare for this date now. If your historical data is important to you, it is possible to export the data.

What is Google Analytics 4?
Google Analytics 4 (GA4) is the latest version of Google Analytics released October 2020. This is Google's replacement for Universal Analytics.

How do I figure out which version of Google Analytics I'm using?
Consider:
All UA tracking codes start with UA-
GA4 tracking codes with G-.
With this knowledge, here's where you can look to see what code your site is using:
Google Analytics Dashboard:
Log into your Google Analytics account and click the Admin button located at the bottom left. Select your relevant account and property. Your tracking code will be displayed beside the property name. See the following screenshot: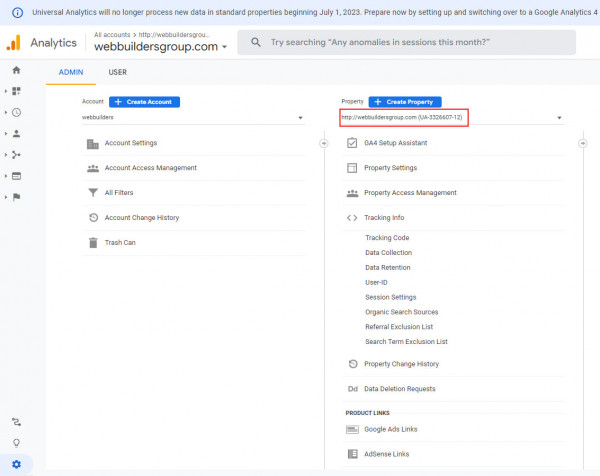 Website Source Code:
If you're comfortable looking at your websites source code, search for either 'UA-' or 'G-'. If you find either of these codes within your websites source code this should confirm which version of Google Analytics your site is using.

Google Tag Manager:
If you use Google Tag Manager to add your Google Analytics tracking code to your website you can also learn which version your using from there.
After logging into Google Tag Manager and selecting the relevant account, navigate to the "Tags" page. Looking through your list of tags, you'll want to look at the "Type" column. You're looking for either of the following values
Google Analytics: Universal Analytics
Google Analytics: GA4 Configuration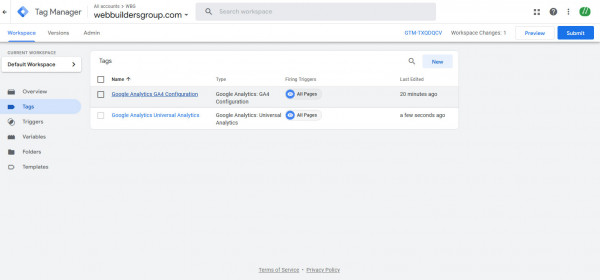 If you're having trouble figuring out which version your site is using, you can reach out to us. Let us know your website's URL and we'll follow up with you.
If you are using UA we can help you switch over to GA4 now.

How can I migrate from UA to GA4?
Google provides a guide at this link on how to migrate from UA to GA4. Getting a GA4 tracking code and installing it on your website is fairly straightforward, but migrating Events, Goals & Conversions, and Audiences takes a bit more effort.

How can I export my UA data?
There are a few ways to export your UA data. One thing we think that's important to make clear is that you cannot import your UA data into GA4.
You can export individual reports to several formats like CSV, Excel, Google Sheets or PDF using the export button in Google Analytics.
You can use Google Analytics Reporting API to export data.
Google Analytics 360 customers can also export to BigQuery.
Of the three options above, if you're a small to medium sized business owner we think having your data exported to Google Sheets using the Google Analytics add-on for Google sheets is going to offer you the best results with the least amount of complexity and additional costs. Check out this video from Loves Data where they demonstrate exporting data from UA.
If you need help switching over to GA4 or exporting your data please reach out. We can work with you to determine what data is important and export that data to Google Sheets.